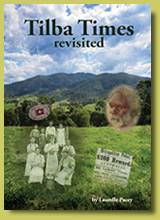 Tilba Times revisited

Tilba Times revisited places Gulaga (Mt Dromedary) at the centre of Tilba's history.

It tells of the local Aboriginal people, their close ties with early farming families, the district's cheese factories, and goldmining when Dromedary was once home to about 300 people.

It tells the story of the villages of Tilba Tilba and Central Tilba and the settlement at Corunna. Changes in the dairy industry led to National Trust recognition of the uniqueness of the villages and a new phase for the area led by a pride in its past.

It includes some of the history of Wallaga Aboriginal Station, the fight for land rights and the Hand Back of Gulaga and Biamanga National Parks.

It also includes Nic and Erica Dibden's initiatives with Tilba Real Dairy and how Tilba became the home of River Cottage Australia.


A small history of Tilba's main properties, co-written with Norm Hoyer, is also included.

124 pages, 144 images (including maps). Cost $35, plus $10 p&p.