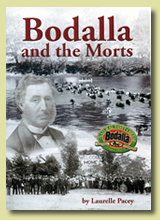 Bodalla and the Morts

Bodalla and the Morts explains why the small village of Bodalla has two beautiful churches designed by celebrated nineteenth century architects, and a hotel once considered by the well-to-do the only place worth staying south of Kiama.

It details Bodalla's pioneering role in the Australian cheese industry, initially due to the determination of Thomas Mort.

Mort was a leading figure in trade and commerce in mid nineteenth century NSW. He believed passionately the growing Colony should develop its own agriculture and manufacturing industries. His enterprises included the auction of wool and pastoral properties, building ships and locomotives, gold mining and shipping, and a pioneering role in the frozen meat export trade.

Mort established the Bodalla Estate in 1860 as his country residence, but went on to show how cheesemaking in Australia could move from being a cottage to a factory industry.

The book's main focus is on the Mort family's long association with Bodalla, the Estate's various stages under different managers, through to the sale of the Bodalla Company and the Estate to Panfida in its bid to control the Sydney milk market, and the subsequent break-up of the Estate.

Bodalla and the Morts draws extensively on primary sources – Bodalla Company records, contemporary newspaper articles, and Mort family letters and journals – and is enriched with many early photographs from the Mort family archives.

144 pages, over 160 images. Cost $40, plus $10 p&p.