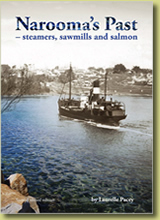 Narooma's Past

Narooma was once quite a busy port with up to three ships in at the one time. They took timber from local sawmills to Sydney, returning with supplies for the town.

Yet little remains today to remind us of the many ships and seamen who called here, of the ships built here, or of the bullockies, millhands and sawmillers who worked the forests around Wagonga Inlet for almost 100 years.

This book also talks about Narooma as a holiday destination for the adventurous or well-to-do in the 1920s and 1930s when its hotels and guesthouses had the style and glamour most other south coast towns lacked.

It includes stories about Australia's first fish cannery and other milestones in Narooma's rich history.